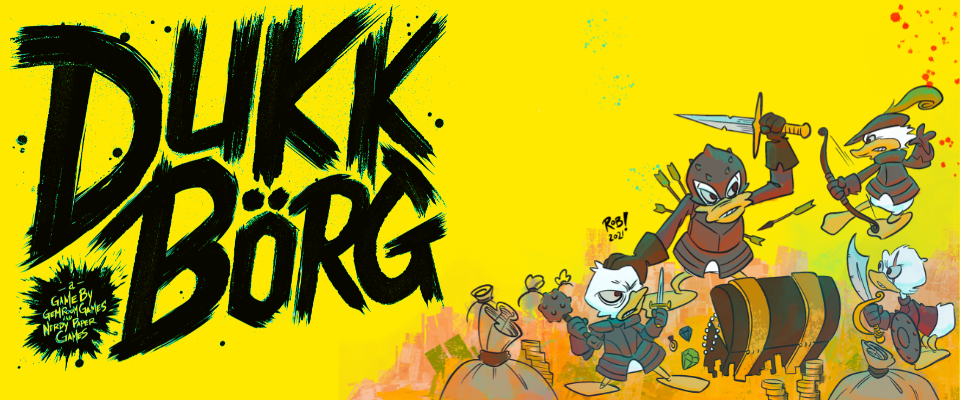 DUKK BORG Press Kit
Fact sheet
Game description
DUKK BÖRG is a grindhouse fantasy tabletop game about duck-human hybrids banding together in pursuit of death or treasure before the world ends. Inspired by the beloved Saturday morning cartoon DuckTales, DUKK BÖRG introduces characters, places, and treasures found long after the McDuck clan's adventures have finished, the moon has exploded, and the sun has turned red in its dying days.
Designed to be used with the award-winning tabletop rpg MÖRK BORG (2020, Stockholm Kartell), DUKK BÖRG takes the beauty and brutality of MÖRK BORG and uses them to emphasize what we all loved about DuckTales: unlikely heroes, high stakes adventure, found family, and the pursuit of outrageous wealth that can all be found amongst the wreckage of racecars, lasers, and aeroplanes. The MÖRK BORG compatibility of DUKK BÖRG ensures that the characters, settings, and other elements of DUKK BÖRG may be played as a complete setting, or alongside those of MÖRK BORG for delightful, if horrifying, juxtaposition.
In DUKK BÖRG you are the treasure hunters and gizmo speakers that seek to be the richest ducks of a dying world. You will form your own clan of found family, hoping that together you're smarter than the smarties and tougher than the toughies. You will face off against witches and crime syndicates, seek out ancient treasures, explore the doomed city of DUKK BÖRG and the surrounding Calisotan environs, and watch helplessly as apocalyptic psalms based on the classic theme song tick down to doom. Life is truly like a hurricane here in… DUKK BÖRG!
Key features
A map of the doomed city of DUKK BÖRG and surrounding Calisota, featuring SKRUJ's castle, his ancient Citadel of Gold, Hookbill Henge, and The Moon.
A new theme psalm that counts down the world's demise with hurricanes, racecars, lasers, aeroplanes, and strangers out to find you.
Rules for creating your own clan in the McDuck tradition.
Four new optional character classes, including the avaricious Treasure Hunter and eccentric Gizmo Speaker.
Five adversaries and six disreputable associates seeking the same wealth as you.
Twelve treasures and artifacts based on the Ducktales back catalog to retrieve or die trying.
All of it compatible with any MÖRK BORG adventure!
Developers
DUKK BÖRG writing and layout was done by Gem Room Games, with illustrations by The Nerdy Paper Games of Rob Hebert.
Gem Room Games
Gem Room Games is a game design partnership based in Los Angeles, California. Dan Phipps and Kali Lawrie have been making tabletop games for a combined 9 years. Their mission: to make weirder, funnier, and faster games for people who've never enjoyed a tabletop RPG before.
The Nerdy Paper Games of Rob Hebert
Rob Hebert draws pictures and designs tabletop RPGs under the handle Nerdy Paper Games. Look for him on Twitter, Instagram, and itch.io if you like vampires, ducks, or other spooky things.
Press quotes
From the creators of DUKK BÖRG
"As soon as we started writing DUKK BÖRG it was clear that this setting would transcend the pun that inspired it. We set out to create something unique for tabletop players: a complete and unique setting that married lighthearted pulp adventure and doom metal fantasy. From its legendary theme song to its endless rogues gallery, DuckTales has everything a sword and sorcery tale needs to face down its inevitable apocalypse. We wanted to make something that respected MÖRK BORG, and bring something to the game that would feel like an extension of its setting. Weird, full of puns, but rotten to its core and ready to curse you with its dying breath!"
- Dan Phipps
"MÖRK BORG is the latest in a series of games that inspired me to reconsider the rpg book not just as a set of rules, but as an art piece itself. Our layout - what fonts we use, where we place our words, and how those words interact with Rob's art - all work together to tell the story of DUKK BÖRG in a rich, affecting medium. Each page is customized to convey the tone of its subject. Every character's personality comes across in the sizes and shapes of fonts that streak, splash, and scrabble across their spreads; each treasure's adventure is suggested; every leer, every grudge, every guttural quack calls out that much louder in its own voice. It was so much fun to see how we could push the boundaries of the format into something that offers page after page of visual excitement while still making a functional, communicative book."
- Kali Lawrie
"This project combines two of my favorite things: heavy metal and cartoon ducks. There's always been an edge to Scrooge and the gang, going back to the legendary Carl Barks comics run and Donald's World War II service—and the resulting anger issues. Ducks are also a horrible, mean little species in real life, so it just made sense to me that they'd be one of the species to survive an eldritch apocalypse and thrive in the aftermath. Artistically, it was a fun challenge to balance the friendly shapes of classic American animation with the gritty, grungy textures of gutter punk zine culture. I hope I've done justice to both!"
-Rob Hebert
Praise for DUKK BÖRG
"On [the Treasure Hunter] page, you can see how the MÖRK BORG's overall structure remains [in DUKK BÖRG] while its visual aesthetic sloughs away. That's good! The bones were solid; I'm excited to see these aesthetics bear new fingerprints! Mimicry is step 1 in a game's life. This is step 2."
-Clayton Notestine (@ClayNotestine), via Twitter
"Writing-wise, DUKK BÖRG is glorious. It knows exactly what it's doing and how silly its straight-faced Duck Tales OSR concept is, but it commits. It's easy to get immersed in this tale of duck liches and cruel wealth, and that takes some serious chops to pull off."
-Richard Kelly of Sprinting Owl Designs (@sprintingowl)
Links to download assets
High resolution art assets and logos may be found at https://drive.google.com/drive/folders/1M01r_veJT6O23QzFRCW9iO_ZfuplTRRl?usp=sharing
or at the download link below.
Contact information
Gem Room Games
The Nerdy Paper Games of Rob Hebert