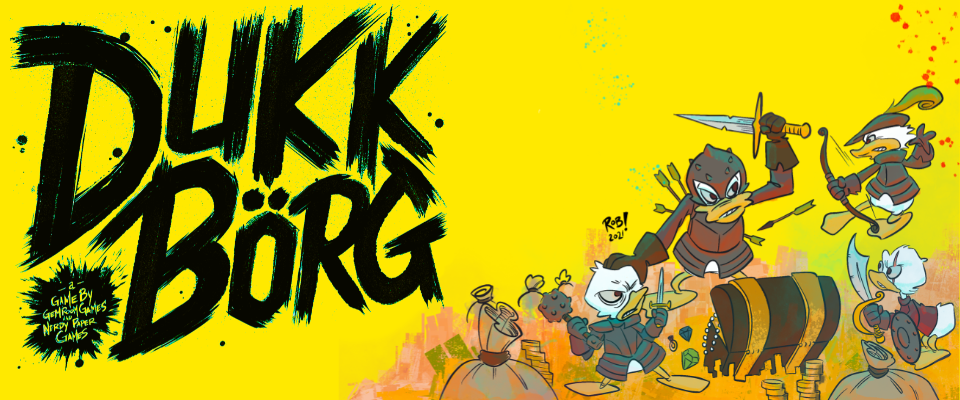 DUKK BÖRG
Life is like a hurricane, here in...

DUKK BÖRG!
Once the gleaming jewel of Calisota, a fowl wind now blows down the streets of DUKK BÖRG, abandoned by all but those foolish enough to travel there and those cruel enough to survive. The treasures of long dead merchant-emperors call to you, and so you and your clan have flocked as birds of a feather to almost certain ruin. Mysteries are yours to solve, histories are yours to be written. For every day you will be out there, facing...
DUKK BÖRG!

Words and layout by Gem Room Games
Original art by Nerdy Paper Games

Dukk Börg is a module intended to be used with MÖRK BORG, and requires those rules to play. It will be released in three rounds, each round adding more to the game.

Round One: Getting Started with Dukk Börg
Release: March 15, 2021

Features everything you need to get started in Calisota:
Custom character sheets
Rules for creating a character born in Dukk Börg
Rules for creating your own clan to seize the wealth of those whose lines vanished long ago
A character class, adversary, and possible clan associates
Round Two: Explore Dukk Börg
Release: May 2021
Featuring a map and locations in the Dukk Börg Metropolitan Area, appropriate treasures to hunt for, and artifacts to wield in their pursuit. Additionally, a new character class, adversary, and clan associates.

Round Three: The Population of Dukk Börg and Their Fate

Release: 2021
Featuring more classes, adversaries, associates, and the means by which the world of Dukk Börg shall come to ruin.
All three rounds will be available as updates when you buy Dukk Börg!

So grab your femurs and your scrolls, gather your clan, and set sail for
DUKK BÖRG!

Dukk Börg is an independent production by Gem Room Games and Nerdy Paper Games and is not affiliated with Ockult Örtmästare Games or Stockholm Kartell. It is published under the MÖRK BORG Third Party License.
MÖRK BORG is copyright Ockult Örtmästare Games and Stockholm Kartell.

Purchase
In order to download this Module you must purchase it at or above the minimum price of $6 USD. You will get access to the following files:
Dukk Borg Round One.pdf
15 MB
Download demo
Comments
Log in with itch.io to leave a comment.
Fantastic idea and execution! I'd love to hear more about Dukk pirates in Dukk Börg!
As far as games based on puns go, this is fucking top-tier. This is incredible.